美國製 JB 震動型 冷媒測漏器 LD 5000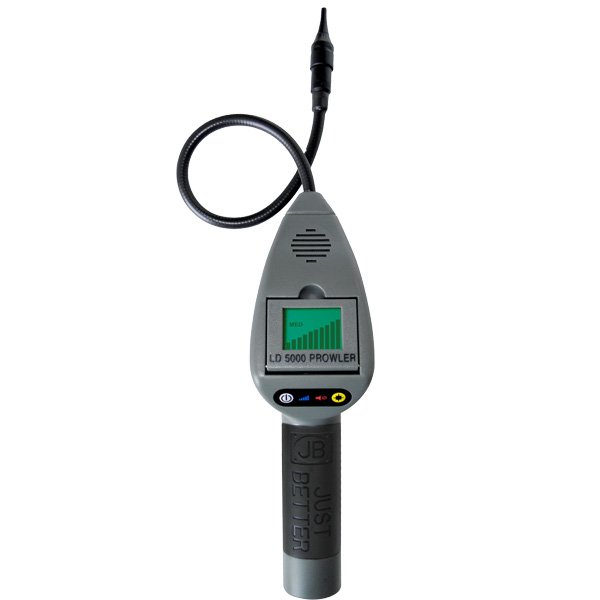 The Prowler LD-5000 refrigerant leak detector uses JB's proprietary electrochemical sensor technology for unparalleled accuracy. Coupled with unique user features, there is simply no better hand held probe type service leak detector system on the market. The sensor is durable and will not be damaged by overexposure to refrigerant gas or contaminated by condensate water. The sensitivity is extremely accurate for ALL HFC, HCFC, blends, and the new HFO refrigerants. The technology provides for low battery consumption, excellent circuit stability, extremely long sensor life, and the electrochemical function of the sensor does not diminish over time with use. The sensor life has been tested to last over ten years. Safe to use in combustible atmosphere.

The Prowler features a large LCD screen that has a backlight and flips upward so that the user can adjust the screen position for better visibility. The bar graph shows the intensity of the leak to help pinpoint the source of the leak. Sensitivity can be programmed to high, medium, and low. If a leak is detected, there is an audible alarm (which can be muted), a bar graph on the screen, and the handle will vibrate. The Prowler does not require rechargeable batteries as it operates on 4 AA batteries (included).

Certified to Standards CE, SAE J2791, and EN 14624. An example of sensitivity (detects all refrigerants this is just a partial list): R-410A 0.05 oz/yr., R-407A 0.05 oz/yr., R404A 0.05 oz/yr., R427A 0.05 oz/yr., R22 0.025 oz/yr., R134a 0.05 oz/yr., R1234yf 0.0125 oz/yr. R1234yf is a replacement for all HFC (134a) and HCFC (22) refrigerants that are currently being phased out. It is an A2L flammable refrigerant as defined by ASHRAE 34. Backed by a two year replacement warranty.
外部網站詳細資料:按此前往